Creating environments where moments of joy, independence, and wellness are the focus
each and every day.
Affordable Luxury Assisted Living
Welcome to Osmond Senior Living in Lindon. We are grateful to be able to introduce you to our beautifully designed community. We take great pride in knowing that it is designed to provide the highest level of assisted living in Utah. Osmond Senior Living in Lindon is a "Type 2" community and is equipped to provide the best and highest level of care for our residents. We provide memory care programs designed to meet the needs of our residents physically and emotionally in a socially connected community, where they can thrive.
This is a luxurious setting that has been built to accommodate seniors in a safe resort setting with all the functionality of a large scale assisted living. This gorgeous building is equipped with multiple elevators and ADA compatible living quarters with private showers and kitchens. There is 24-hour monitored care by a staff of highly trained caregivers. The building is monitored for emergency services and has video surveillance and security in common areas for their safety. The building has a sprinkling system throughout and has emergency equipment on each floor. We are concerned about the great people who will be living here and each resident will be given a personal pager for any assistance that they may require.
See more of our Community. Please take a virtual tour!
Ridgeline Management Company is a leading senior housing management company based in Oregon. Ridgeline currently operates properties specializing in retirement, assisted living and memory care. Ridgeline has proudly overseen the operations of Osmond Senior Living in Lindon since 2017. Please note that the mix of signature programs listed below vary from community to community.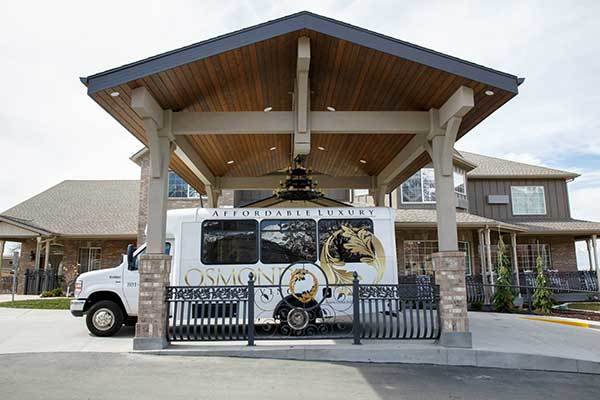 Osmond Senior Living in Lindon Services & Amenities
Osmond Senior Living in Lindon residents are encouraged to participate in the many activities that are part of their stay here. For those residents that need more therapeutic activities and personalized attention, our Concierge program provides structured and personalized activities to help the resident maintain and improve their quality of life.
We have an amazing Activity Coordinator!
Brand New Bus and trips all over town!
Gardening and Outdoor Activities.
New Activity Calendar every week
If there is a specific type of activity you would like, be sure to talk with staff and to request it. We are happy to plan activities around our residents' wishes.
Our mission guides our philosophy in creating a senior services environment where seniors are in charge of their care; where we support each individual's choices and desires to experience senior living to its fullest. The seniors choose how they want to live as we walk along beside them as support.
You have started in the right place.